With the 2012 Madrid Open in full swing, it's time to look at the schedule and find the players ready to run through Round 3.
Players like Novak Djokovic have already cashed their ticket to the third round, but there are other players flying under the radar who are red hot.
All of the following stars will be in the third round and are ready for their chance to be a winner on one of the biggest stages in tennis.
Novak Djokovic
There is no better tennis player in the world right now than Novak Djokovic, and he continues to prove it every tournament. After beating Daniel Gimeno-Traver 6-2, 2-6, 6-3 in the second round, the Serbian star is ready to move on to Round 3 and continue his dominance.
With Roger Federer and Rafael Nadal also in the field, the tennis world is hoping for another dream final at the 2012 Madrid Open.
David Ferrer
After beating Radek Stepanek in the second round 7-6, 6-2, David Ferrer will look to continue his successful run from last month's ATP Barcelona Open in which he lost in the finals to countryman Rafael Nadal.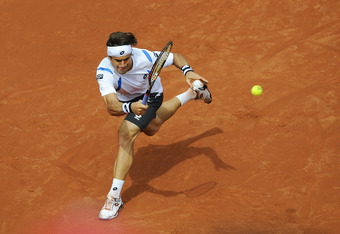 David Ramos/Getty Images
With a big head of steam and plenty of confidence, Ferrer's road to a finals appearance this time around has three major hurdles in the way. I think it's pretty obvious who those hurdles are.
Tomas Berdych
After a first-round bye, TomasBerdych beat Kevin Anderson 6-4, 6-3 in the second round to secure his place in the third round. While his opponent will be the tough French star Gael Monfils, Berdych has the clear advantage.
If Berdych can stick to his game and overpower Monfils, there is no reason to believe that he can't go deep in this tournament.
Madrid Open 2012 Schedule
Men's Matches
No. 9: G. Simon vs. G. Garcia-Lopez—3:00 PM (ET)
No. 3: R. Federer vs. M. Raonic—3:00 PM (ET)
No. 7: J. Tipsarevic vs. F. Delbonis—1:00 PM (ET)
No. 10: J. del Potro vs. M. Youzhny—1:00 PM (ET)
No. 11: N. Almagro vs. M. Granollers— 11:00 AM (ET)
No. 4: J. Tsonga vs. R. Harrison—11:00 AM (ET)